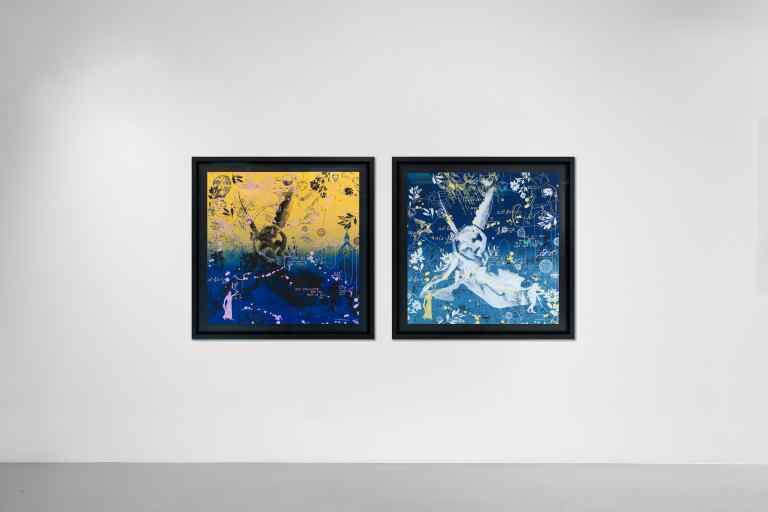 Cupid's Kiss
Limited Edition Screen Print
The winged young man who has just landed on a rock where a girl lies unconscious, is the god Cupid – and can be recognized by his wings. The young girl's name is Psyche. Cupid's mother Venus, goddess of Beauty, demanded that Psyche bring back a flask from the Underworld containing "Imprisoned Treasure of Divine Beauty", and strictly forbid her to open it. However, the contents of the flask had secretly been replaced with "Sleep of Darkness", in stead of the beauty she had expected.
But Psyche's curiosity got the better of her. She couldn't resist opening the flask. She breathed in the toxic fumes and fell into a deep sleep. Seeing her lying motionless, Cupid rushed to her and touched her gently with the tip of his arrow, to make sure she was still alive. This is the moment caught in this image.
Cupid lifts his beloved Psyche in a tender embrace, kissing her and slowly bringing her back to life.
Inspired by the original work by Antonio Canova, in this limited edition screen print of the original canvas versions of "Starry Night" and "Into the Light", Klibansky combines the sculpture of Cupid's Kiss with his Thought Painting style to create his own interpretation of this magical love story.
The creation of Cupid's Kiss
Watch the Video
Two different color variations
Through Beauty and Darkness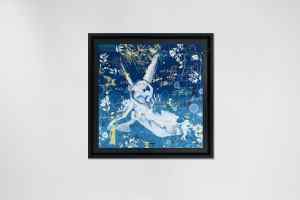 Cupid's Kiss — Starry Night
For "Starry Night" Klibansky painted a seamless gradient, blending three different colors of blue, feeling as if floating from water into a stary night sky.
€ 4500,- incl. 9% VAT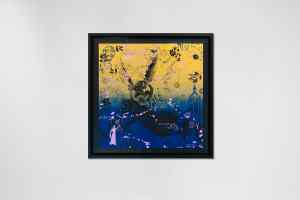 Cupid's Kiss — Into the Light
For "Into the Light" Klibansky wants to express a journey from darkness en rising up into the golden light, using a deep blue and metallic gold paint.
€ 4500,- incl. 9% VAT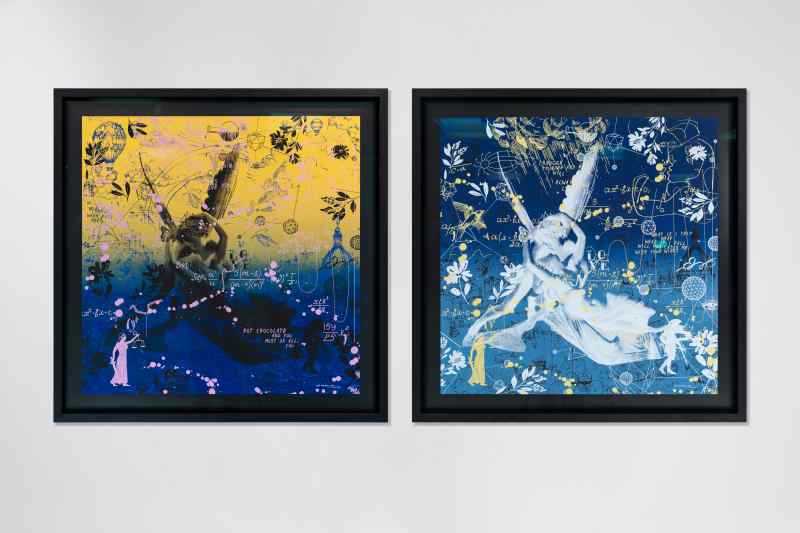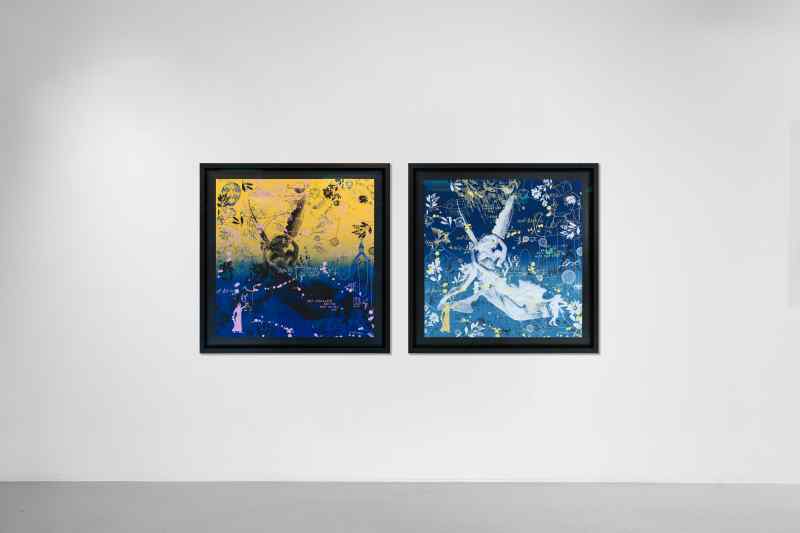 Starry Night
Cupid's Kiss — BLUE
With a title borrowed from a Van Gogh painting, a starry night, to Klibansky, resembles the unknown worlds and endless possibilities. In this tranquil version of Klibansky's Cupid's Kiss he reimagines Psyche's sleeping state as if she were floating like diver that has found perfect bouyancy under water; Psyche is frozen in the in-between, on her way to a divine universe up above.
Cupid seams as if he just traveled down from another world to come and save his love from the icy depths. The soft yellow images distract you from the main subject as if you were looking to someone through water, where ripples and your own reflection have the same power.
Into the Light
Cupid's Kiss — GOLD
In this dramatic version of Klibansky's Cupid's Kiss, the artist depicts a Cupid struggling to save his love Psyche from what looks as a dark underworld-like space into a fiery passionate golden sky in a heroic act of desperation.
The ultramarine blue bottom side of the print hardly provides enough contract to show the detailed images that lay on top. Perhaps a glimpse into Phyche's dreams while she sleeps. The darkness transitions into a sparkly golden heaven exactly at the point where Cupid kisses his love, beaming the warm light back down into Psyche in the hope she wakes up.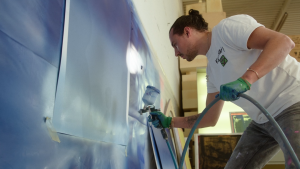 Every print is hand painted
Unlike most traditional screen prints, Klibansky decided to paint every single piece of paper by hand in his studio, before applying the screen print. This way, every print within the series is factually unique and differs from piece to piece.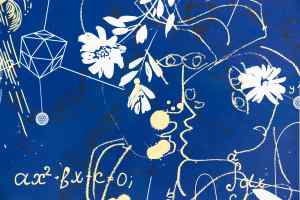 Edition of 100 pieces per color
Klibansky chose for two different color gradient schemes, both conveying a different emotion withing the same story line of the awakening of Psyche by Cupid's kiss. Each print is signed and numbered by the artist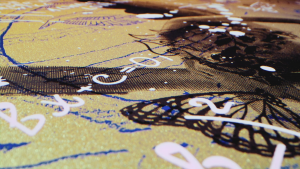 Intricate details
Zooming in on the special edition prints, one can see a magical sparkle of the gold dust in the paint, or the subtle blending of different shades of blue paint particles, giving a satin-like finish.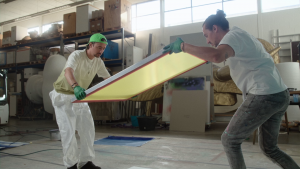 Framed
Every piece comes framed in a beautiful wooden frame covered by museum glass.
The total framed size is:
116×116×5 cm (45.6x45.6x1.9 inch)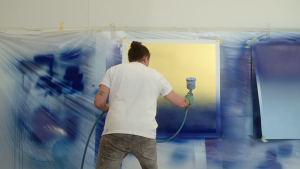 Materials
The print is made on hahnemuhle archival fine art cotton paper, with acrylic paints and (metallic) screen print inks.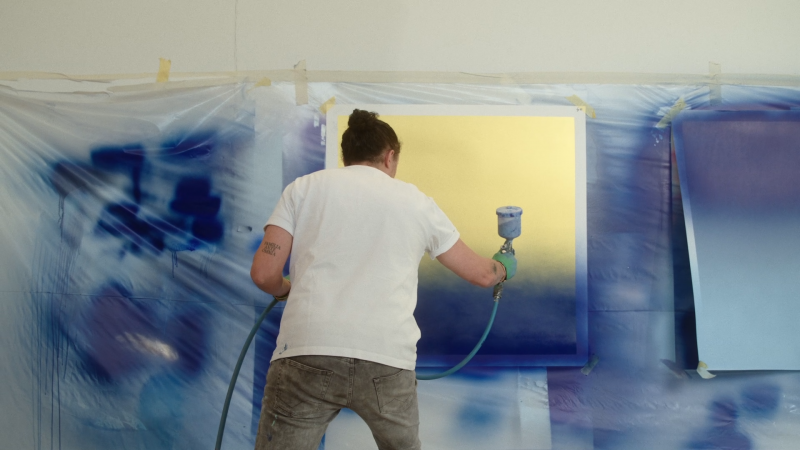 Choose your color
"The only impossible choice is the one you never made"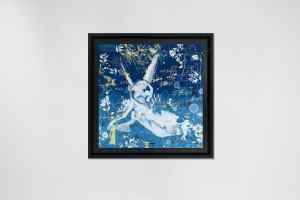 Cupid's Kiss — Starry Night
€ 4500,- incl. 9% VAT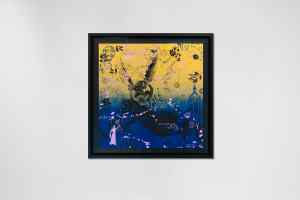 Cupid's Kiss — Into the Light
€ 4500,- incl. 9% VAT